The Facts about Truck Accidents and Driver Fatigue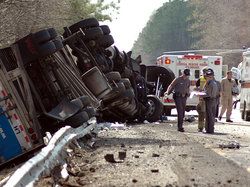 Driving and fatigue can be a deadly combination. For most people, this is simply a fact to bear in mind and avoid when possible. But for many truck drivers, who are expected to drive for consecutive hours on a daily basis, fatigue is nearly unavoidable. Unfortunately, tired motorists do not only put themselves at risk, but also everyone around them. In the event an accident occurs, other innocent parties could be severely injured.
In the event you are involved in an accident with a truck in the Long Island area, do not hesitate to contact our office. Through the guidance of a personal injury attorney, you can significantly increase your chances of being fairly compensated for your injuries. As shown below, truck accidents and driver fatigue are an all-too-common danger, but you need not suffer financially because of it.
The Dangers of Fatigue
One in five truck accidents are caused by fatigue - an unsurprising statistic when you consider just how much fatigue can impair one's basic driving ability. When a motorist suffers from lack of sleep or weariness due to extended time on the road, almost all facets of driving are compromised. A tired driver may experience:
Falling asleep at the wheel
Difficulty focusing on present conditions
Impaired spatial reasoning
Slowed reaction time
Zoning out/inattentiveness
Drifting across lanes
Overcompensating or undercompensating for sudden dangers
Why Truck Drivers Are at Risk
Truck drivers, in particular, are at risk of experiencing fatigue while behind the wheel. First, the nature of their job demands many hours of driving without rest. Legally, truck drivers can spend 14 consecutive hours working, 11 of which can be spent actively driving. Over a work week, they are expected to work 60 hours in seven days or 70 hours in eight days. This alone can account for many drivers feeling worn out and overworked.
But despite federal laws, some drivers are under pressure to work even longer to meet deadlines and increase profits for their companies. It would not be implausible to encounter trucks on Long Island roads that have been traveling for over 11 hours straight, with the driver having gotten little rest beforehand.
The Importance of Attorneys
If you are involved in an accident with a truck, calling an attorney will not likely be the first thing on your mind, especially if you have suffered major injuries. Nevertheless, having a truck accident attorney on the scene can make a significant difference in the strength of your future case. It is very likely that a trucking company will send its own lawyer to investigate an accident as soon as it occurs, in an effort to remove themselves from any possible liability. Even if they are liable, companies will often offer a settlement outside of court in an attempt to minimize their payout. To ensure that you are represented fairly, we will investigate every aspect of the crash, including signs of driver fatigue, evidence of traffic violations, and poor maintenance of the truck or its contents. By taking photographs, speaking with witnesses, and reconstructing the details of the accident, we leave no stone unturned.
The Benefits of an Attorney
With an experienced and knowledgeable attorney, you are significantly more likely to receive compensation for every consequence of an accident. In addition to preventing the rise of your insurance bill by absolving you of fault, we can help you get reimbursed for any or all of the following:
Hospital and ambulance bills
Ongoing medical costs
Car repair or replacement
Long-term disability
Wages lost from missed work
Even when a truck driver seems plainly at fault, a lack of proper legal representation can mean missed opportunities for reimbursement. Don't let a company get the best of you even after you have been injured by their fatigued driver.
Contact Our Office Today
If you need immediate assistance or wish to discuss a recent auto accident, contact our office today. With extensive experience in Long Island personal injuries, we can alleviate you of financial responsibilities due to someone else's actions.
Related to This