Car Accidents and Aggressive Driving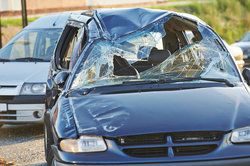 As neighbor to a city that has long held a reputation for angry drivers, Long Island is not immune to car accidents caused by aggressive driving.
And, contrary to late night monologues about New York City drivers, aggressive driving is no joke. Any insightful personal injury attorney will tell you, aggressive driving leads to accidents. The National Highway Traffic Safety Administration estimates that aggressive driving causes or plays a role in about a third of all traffic accidents.
Aggressive driving accidents result in property damage, injury, and death. And it's not hard to see the connection between typical aggressive driving behaviors and car accidents. Aggressive driving traits include:
Speeding
Quick acceleration
Tailgating
Making frequent or unsafe lane changes
Failing to signal
Failure to yield right of way
Passing using the emergency lane, turn lanes, or the road shoulder
Running stop signs or red traffic signals
With more than 50 years of experience, the car accident attorneys at the law offices of Levine and Slavit all too often have seen the tragic and costly results of aggressive driving.
Aggressive Driving vs. Road Rage
Aggressive driving and road rage are often confused, but they are not, legally, the same thing.
Aggressive Driving. Occurs when a driver operates a motor vehicle in a selfish, bold, or pushy manner, without regard for the rights or safety of the other users of the streets and highways, according to the New York State Police. Aggressive driving is a traffic offense.
Road Rage. This is a more serious form of aggression and is directed at an individual. It can include using a vehicle as a weapon or physically assaulting a driver or their vehicle. This is a criminal offense.
After an Accident
If you have been the victim of an aggressive driver, that driver can be held liable in an accident. Damages that can be recovered in an aggressive driving accident include:
Medical bills
Lost wages
Pain and suffering
Rehabilitation
Lost earning capacity
Property damage
Future medical expenses
After any accident, it's important to preserve the evidence in the case. But that can be difficult when dealing with an aggressive driver. A safer course of action may be hiring a lawyer to pursue an independent crash investigation. An experienced car accident lawyer can conduct a detailed investigation and has an understanding of the litigation process.
In addition, a lawyer will have your interests at heart, particularly as compared to what an insurance investigation may conclude.
Next Steps
If you have been involved in an aggressive driving car accident, you have the legal right to compensation for your losses. However, there are deadlines for seeking compensation and you will need to prove your case.
It may seem simpler to accept an insurance payment and forgo a legal case, but you should understand that insurance companies exist to make money and are known to offer low-ball settlements. A lawyer will defend your rights to full compensation, for current and future costs.
The law offices of Levine and Slavit has successfully represented clients throughout New York City, including Manhattan, the Bronx, Queens, Long Island, and Brooklyn, in both state and federal personal injury cases. If you have been the victim in an aggressive driving case, please call for assistance in protecting your rights.
Related to This