Car Accidents and Teens: When the Law Becomes Personal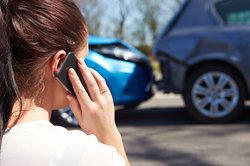 The headlines are often grim:
Three Teens Hurt in Long Island Car Crash
Two Teens Killed In Long Island Car Crash
Four Teens Dead in Long Island Car Crash
No wonder we have mixed emotions when our teen gets a driver's license. As parents, we understand our children are on the cusp of adulthood, but we also know they do not yet think like an adult. The granting of a driver's license leaves parents walking a tightrope.
But the law makes no allowances for age. Though teens are more prone to underestimating dangers, they are still held to the same standard of "reasonable care" when driving, just like an adult. If they fail to do so, they can be subject to a personal injury claim or lawsuit.
If your child has been involved in an auto accident or you have been the victim of a teen driver, a personal injury attorney at the law office of Levine and Slavit, serving Long Island, can help you unravel the complex issues around car accidents and teens. Their car accident attorneys have more than 45 years of experience and have examined these cases from a variety of viewpoints, ensuring an in-depth understanding of auto accident litigation.
Teen Auto Accidents
Auto accidents are the leading cause of death for teenagers between the ages of 15 and 20.
Each case is unique and they often have emotional complications:
Accidents involving teens often involve friends of the child or the children of family friends, making the accident not just traumatic but one that quickly becomes a legal tangle among friends.
When a teen is driving, claims may be filed against the owner of the vehicle and his or her insurance policy. Legal recourse may involve parents of a teen driver and questions about their supervision of a teen's driving. Of course, the parents may be family friends.
Teens are certainly at fault in many accidents, but not all accidents. It's important to determine if extenuating circumstances, such as the roadway itself, or another driver caused or contributed to an accident.
Experienced car accident attorneys understand both the legal and social complexities of accidents when teens are involved, whether as a driver or passenger. The ability to handle these kinds of cases requires special understanding and diplomacy, combined with aggressive litigation strategies to ensure just compensation.
The attorneys at Levine and Slavit combine the legal expertise and understanding required to guide you through the legal process, whether you are the victim in a teen driving accident or have a child involved in one.
Under New York Law you may bring legal action for compensation if you have suffered a serious or permanent injury in an accident. And, no matter who is at fault, you may be entitled to compensation for medical expenses and lost wages.
The law can be complex and hinges on the specific circumstances of each case. The best way to understand your rights is to contact an experienced attorney. Our attorneys handle personal injury cases on a contingency fee basis, which means you owe nothing for legal representation unless we obtain a recovery.
Please call today for an appointment.
Related to This