Quadriplegia: Severe Neck Injuries Affect Victims and Their Loved One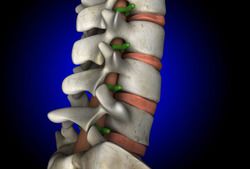 At Levine & Slavit, we are committed to the rights of accident victims. Following a serious accident of any kind, it is crucial for those in Long Island and Manhattan to get in touch with our firm. This is especially true when someone suffers a severe spinal cord injury. During spinal cord injury lawsuits, we will seek commpensation for medical bills and other losses, striving to make the life of the injury victim and the victim's loved ones easier. This is particularly important when a spinal cord injury has caused quadriplegia.
Defining Quadriplegia
Also known as tetraplegia, quadriplegia refers to the loss of use and sensation of all of a person's limbs. This is caused by a serious spinal cord injury of the cervical portion of the spine (i.e., the vertebrae that comprises the neck area).
Causes of Quadriplegia
Some of the most common causes of quadriplegia include the following:
Auto accidents
Bike accidents
Sports accidents
Serious workplace injuries
Major falls
Assaults
Levels of Quadriplegia
The severity of a quadriplegia injury will depend on where the injury is located along the cervical area of the spine, ranging from C1 (the top-most vertebrae) to C7 (the vertebrae at the bottom of the neck and top of the back).
If the injury is a C1-C3, the injury victim will experience complete paralysis of their body and all limbs. Given the lack of control over the chest muscles and diaphragm, those who experience C1-C3 injuries will need assistance breathing. This will mean the use of a ventilator for the rest of their lives.
Injury victims who experience a C4-C7 will have very limited sensation and/or motion of the upper body depending on the nature of their injury. Like C1-C3 victims, they will also be confined to a wheelchair for the rest of their lives.
Major Changes to Your Professional and Personal Life
Given the drastic nature of quadriplegia and serious spinal cord injuries, there will be major changes to a victim's life, both personally and professionally. There are limited job prospects available for people who have suffered such a debilitating spinal cord injury, meaning that your career may be effectively over. Earning your own living may be out of the question entirely.
Injury victims who led an active lifestyle will obviously no longer be able to enjoy those activities. They will also have to deal with major changes to their daily routines, such as getting around the home, getting around the neighborhood, and even interacting with loved ones. Since the paralysis is extensive and total, it can make relationships and intimacy more difficult as well, which is a reality that injury victims need to be aware of.
A Lifetime Where Constant Assistance Will Be Necessary
Simple tasks such as preparing meals, feeding yourself, reading the paper, and hygiene activities will require help from another person. But it goes beyond that. Medical attention and day-to-day monitoring are essential, especially when a ventilator is required. Maintenance may also be necessary for electric wheelchairs to ensure that systems work properly given the limitations of the injury victim's movements.
Helping You with Your Major Medical Expenses and Other Needs
Given all of the realities that are faced by accident victims, it's of the utmost importance that you have skilled attorneys on your side. Our legal team will be sure to hold negligent parties accountable for their actions and help you receive just compensation to cover medical care and the monitoring and assistance you will require to live with dignity. While your mobility may not be restored, we want to make sure that you and your loved ones can lead good lives despite this tragedy.
Discuss Your Case with Our Team of Personal Injury Lawyers
If one of your loved ones suffered a severe neck injury that resulted in quadriplegia, it's important that you get the legal help you need. We encourage you to contact our personal injury law firm today. We at Levine & Slavit hope to ease the hardships that are ahead by helping you receive just compensation.
Related to This